Separating but Not Divorcing: What are the Dangers?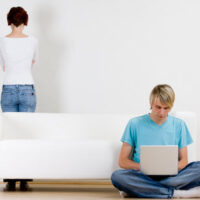 Many couples go through rough patches and temporarily separate, hoping that they can get back together again. These "temporary" separations can eventually lengthen to years apart.
As any experienced Jupiter divorce attorney will tell you, there are risks to separating without divorce. Although divorce might not be ideal, it can protect certain rights and give you more control. Contact Caroline Olson, P.A. to discuss whether it is finally time to file for dissolution.
Your Spouse Has Rights to Your Estate
Should you die, your spouse would have a right to a share of your estate, regardless of what you have written in a will. This is Florida's elective share law, which can be found at Fla. Stat. 732.2065. It states that a surviving spouse has a right to 30% of the elective estate. So you might have used a will to leave everything to your children, but your spouse can take 30% of your assets nonetheless.
Obviously, this creates a problem if you want to cut out your spouse from your will. There are ways to protect yourself—such as having your spouse sign a postnuptial agreement—but the easiest way is to divorce.
You Can't Remarry
Even men and women who have sworn off marriage might meet someone and decide to tie the knot. Unfortunately, you will need to wait to get divorced before you can take another trip down the aisle. As the years roll by, it might be harder to find your spouse, with whom you could have lost touch. This makes getting divorced after all these years even harder.
You'll Need Your Spouse to Sign Any Mortgage
People who need a mortgage to buy a home should plan for having their spouse sign the mortgage as well. If you were single, then you would not need to find them, which would make the home buying process much easier.
Your Spouse Gains Rights to Your Property
Without divorce, your spouse will possibly have rights to any property you acquire after you separate. For example, you might purchase a new car. If you eventually divorce, your spouse can request some of the equity as part of the division of marital property.
Often, men and women can plan around this by having their spouse sign a post-nuptial agreement where they waive their rights. But few people are aware of this option or take the step. Also, your spouse is under no obligation to sign it, even if you agree to live apart.
Should You Stay Married?
Many couples stay married because they are not emotionally prepared to divorce. They might have children and fear how divorce will affect them. Other people have family who disapprove of divorce. Simply living apart seems like the best bet.
Ultimately, it is up to each individual to decide whether to divorce. However, everyone should seriously consider the risks.
There are a few solid reasons for staying married. For example, you might be entitled to certain benefits because you are married and don't want to lose them. You might also be covered by your spouse's health insurance, which could be difficult to find on your own.
Let us talk with you about the advantages and disadvantages of staying married and whether divorce is right for you. You can contact Caroline Olson, P.A. for a free consultation. We serve Jupiter, Boca Raton and Plantation.
https://www.olsondivorcelaw.com/should-you-start-dating-before-your-divorce-is-finalized/