Non-Guideline Child Support In Florida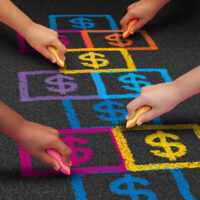 The Sunshine State, like most other jurisdictions, is an income share child support state. In most cases, a complex formula determines the monthly child support obligation. The major factors in this formula are the combined income of the parents, the timeshare arrangement, specifically the number of overnight visitations, and the number of children before the court. This comprehensive formula usually results in a payment that raises the children's standard of living without being a financial burden on the obligor (person paying support).
Arrearage
Past-due child support is the most common child support order customization in Palm Beach County. The obligation to pay child support begins when the parents separate, not when the judge issues an order. So, by the time the judge enters such an order, which is usually following the divorce temporary hearing, obligors could be thousands of dollars behind.
Some obligors simply refuse to pay. Most, however, don't know how much to pay, since as mentioned, the formula is very complex. Others pay informally. They give the obligee (person receiving support) a few hundred dollars a month, often via PayPal or Venmo. Under Florida law, these informal payments don't count toward a child support obligation.
Technically, the obligee could file a credit or property lien, garnish the obligor's wages, or take other harsh collection action. However, such harsh action at such an early stage gets the co-parenting relationship off to a rocky start, to say the least.
So, a Jupiter family law attorney often negotiates an informal arrearage settlement and incorporates it into the child support order. If an obligor is several thousand dollars behind, that debt is relatively easy to retire by paying several hundred extra dollars per month. That's not an ideal solution, but it's probably the best solution in that situation.
Non-Guideline Support
The judge may deviate from the formula if:
Delayed Family Residence Sale: When a house sells, a family could live off the proceeds alone for several months. Until that happens, the family, which is now the obligee and children, may need additional child support.
High Income: The exact ceiling changes pretty much every year. But "high income" is a relative term that, in this context, doesn't just apply to one-percenters. Chances are, if both parents are full-time professionals, like lawyers or doctors, they are a "high earning" couple.
Special Needs: These needs usually include extraordinary needs, like at-home health care. The child support formula accounts for music lessons and other not-as-special special needs. Significantly, there's a difference between wants and needs. Extra child support covers needs, not wants.
Different Time Sharing Arrangements for Different Children: The child support formula assumes that all children spend equal time with both parents. That's not always the case, especially if there's a significant age difference between the children. Time Sharing changes are also one of the main reasons people file motions to modify child support.
Child support modifications are important because only the official court paperwork is enforceable. 
Reach Out to a Compassionate Palm Beach County Lawyer
Divorce and related matters almost always involve financial and emotional issues. For a free consultation with an experienced Jupiter family law attorney, contact Caroline Olson, P.A. We routinely handle matters throughout Palm Beach County.