Special Procedural Issues in a Gray Divorce Case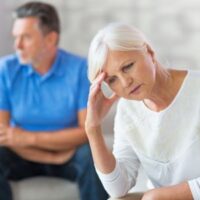 Most over-55 divorce cases end the same way. Over 90 percent of civil cases settle out of court. But the road to a settlement in a gray divorce case is much different than the road to a settlement in other divorce matters. These matters involve unique financial and emotional matters. Financially, many older couples have large retirement accounts and a significant amount of equity in their homes.
A Jupiter divorce attorney must be prepared to navigate through these challenging procedural issues. Otherwise, a divorce settlement might be delayed, and the former spouses cannot move on with their lives as planned.
Retirement Account Partition
In many cases, a retirement nest egg account, like a 401(k) or IRA, is a divorcing couple's largest asset. Additionally, these accounts often have an emotional value, namely future financial security, that outweighs their financial value.
Usually, any during-the-marriage account increase is marital property that's subject to an equitable division. In Florida family law, equitable is usually, but not always, the same thing as equal.
Generally, non-account holders roll their allotment into another long-term savings account. Federal law basically prohibits taxes and transfer fees in these situations. In some cases, a cash-out option is available.
Slightly different rules apply to military retirement accounts. Most older couples meet the 10-10-50 rule. If the marriage lasted at least ten years and the owner spouse had at least ten years of service, expect a division of  the account increase in half. A Jupiter family law attorney may be able to arrange for a workaround in some cases.
Spousal Support
The law recently changed significantly in this area, especially with regard to longer marriages and over-50 spouses, so strap yourselves in and stay sharp.
Durational alimony is available for 75 percent of the length of a long-term marriage (more than twenty years). A thirty-year marriage could mean up to twenty-two-and-a-half years of alimony. The amount and duration of payments depends on the obligee's financial need, the obligor's ability to pay, and a few other factors.
Permanent alimony is no longer available in Florida. However, the judge only ordered permanent alimony in rare cases.
 Count on a Dedicated Palm Beach County Lawyer
Divorce and related matters almost always involve financial and emotional issues. For a free consultation with an experienced Jupiter family law attorney, contact Caroline Olson, P.A. The sooner you reach out to us, the sooner we start working for you.